Different Seasons Jewelry and their inventive techniques have been featured 9 times Art Jewelry Magazine and Lapidary Journal's Jewelry Artist magazine, including full length articles, a cover feature and gallery features.
We've also included the various photos of D.S. jewelry and gems chosen for best selling gemology author Renee Newman's Exotic Gemstones Volumes 1, 2 and 3, her book "Rare Gemstones" as well as some of her e-books.
See Renee Newman's full series of books here~ reneenewman.com/books.htm
African Sunstone pendant by DSJ, featured in Exotic Gems Volume 1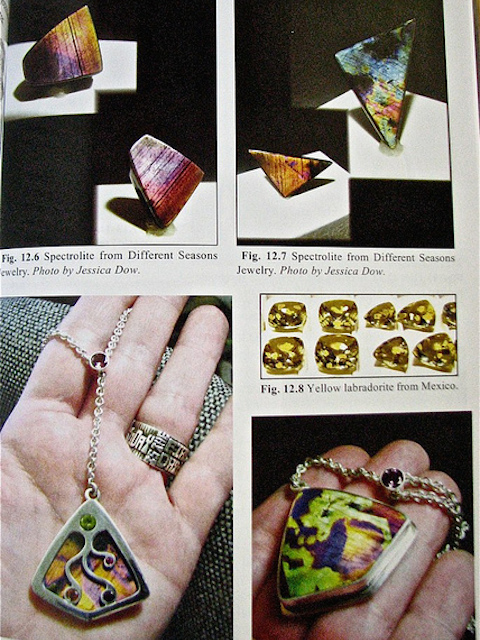 Below are further examples of the many photos and finished jewelry published in the Renee Newman Exotic Gemstones and Rare Gemstones books. Mark Anderson helped compile a large portion of Exotic Gemstones Volume 2's chapter on gem dinosaur bone; Jessa Anderson offered a significant contribution to Exotic Gemstones Volume 3's chapter on matrix opal. DSJ's photos and jewelry were featured on the covers of both Volume 2 and Volume 3.
Different Seasons Jewelry Magazine Features
Lightning Ridge opal and sapphire necklace featured on the cover of Art Jewelry Magazine.